The Second Annual Aquacadet Summit was held in December 1998 at The Glasshouse in Pomona CA. Cadets enjoyed a Q&A Session with The Aquabats before witnessing the one and only screening of the fabled Buena Vista pilot.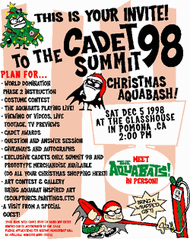 The previous Summit was the 1997 Aquacadet Summit and the following Summit is the1999/2000 Aquacadet Summit.
Ad blocker interference detected!
Wikia is a free-to-use site that makes money from advertising. We have a modified experience for viewers using ad blockers

Wikia is not accessible if you've made further modifications. Remove the custom ad blocker rule(s) and the page will load as expected.