The Aquabats played the Glasshouse in Pomona, CA on November 5th 2011 for filming of their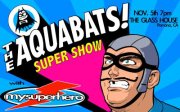 up
coming series "The Aquabats Supershow" on The Hub. Only one opening band played, because of the filming. There, My Superhero played their second reunion show since 2002. The main singer of MS claimed at this show, he met his wife on tour in 1998 with the Aquabats.

The Setlist:
The Shark Fighter
The Legend is True
B.F.F.
Pizza Day
Fashion Zombies
In My Dreams
Look at Me, I'm a Winner!
Cat With 2 Heads
Luck Dragon Lady
Super Rad
Hey Homies
Pool Party
Encore:
Nerd Alert!
Martian Girl
Captain Hampton and the Midget Pirates
Awesome Forces
Cobra Man and The Music Referee (Strongbad) interupted the show, and directly attacked the Aquabats. Both villans walked away, as the Aquabats rose up, claimed their victory, and MCBC was quoted, "Remember kids, sometimes the best defense is a terrible offense!"
Ad blocker interference detected!
Wikia is a free-to-use site that makes money from advertising. We have a modified experience for viewers using ad blockers

Wikia is not accessible if you've made further modifications. Remove the custom ad blocker rule(s) and the page will load as expected.