Crash McLarson
Talk

0
644pages on
this wiki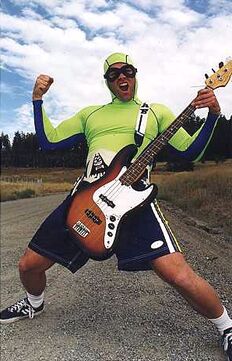 Crash plays bass and and is currently one of the only two remaining founding members. However, in the very, very early days of the band, he played trombone. He is considered second in command of the band by some. He is the strongest of the Aquabats and can smash any foe with his punk rock fists. Also, he can grow larger... a bit.
Crash's Big Family
Edit
Vital Statistics
Edit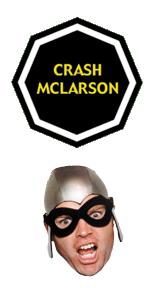 Real Name: Crash McLarson
Occupation: Lumberjack, Pediatric psychologist
Place Of Birth: The Highlands, Aquabania
Known Relatives: The McLarsons
Group Affiliation: The Aquabats, B.H.R., The Immortals, Diet Cokes Anonymous, The Cracklin' Oat Bran Mailing List
Height: 6'8"
Weight: 250 lbs. of SOLID Muscle!
Eyes: Orange
Hair: Orange
Strength Level: Orange
Known Super Human Powers: Crushing oranges, can destroy absolutely ANYTHING. Especially oranges.
Weapons: An incredibly big fist, morning breath of horror, and a couple of bass guitars
Musical Likes: Rock and also Roll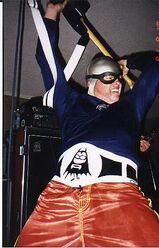 Turn Ons:
The light
Turns Offs: The light when Crash done
The Return Of The Aquabats:
Punk Rock Super Fist (Breaks Rocks)
The Fury Of The Aquabats:
Master of Disaster, Punk Rock Fist
The Aquabats Vs. The Floating Eye of Death:
Destruction, Construction
The Aquabats Coloring & Activity Book:
Can Destroy absolutely anything.
Chad Larson
Edit
Chad brings punk rock fury to the band, as his background dips deep into the early eighties LA punk rock scene. Until they broke up in 1997, he was the bassist for B.H.R. (Which stands for different things depending on who you ask.)
Chad is a professional electrician and lives with his wife and four kids in Huntington Beach, CA
External links
Edit