Part of the "Teenaged Pajamas From Outer Space Tour," also the tour supporting Charge!! The Expoxies and The Phenomenauts opened.
Fashion Zombies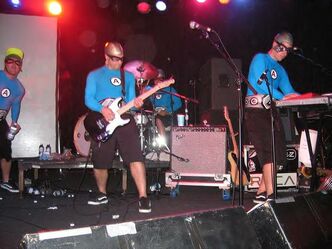 Plastic Lips
Nerd Alert
Super Rad
Look at Me, I'm a Winner
Martian Girl
Tiger Rider
Chemical Bomb
Demolition Rickshaw
Pizza Day
Waterslides
(Encore)
Pool Party
Awesome Forces
The Aquabats are known for their witty improv on stage. But it is not as common for them to turn it into full on songs as demonstrated at this show seen below:
Ad blocker interference detected!
Wikia is a free-to-use site that makes money from advertising. We have a modified experience for viewers using ad blockers

Wikia is not accessible if you've made further modifications. Remove the custom ad blocker rule(s) and the page will load as expected.