The Aquabats played the Glasshouse in Pomona, CA on August 15th, 2008. Opening bands included Love You
Long Time (a dance type music group who also offered a complimentary street performance after the show), and The Phenomenauts. The original setlist had the first song of the encore as a cover of Hall & Oates'
"Private Eyes."
However, it was crossed off and replaced by Fashion Zombies instead.
Giant Robot Birdhead
Martian Girl
Nerd Alert
Pizza Day
Lovers Of Loving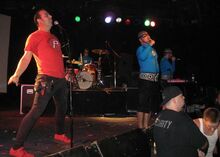 Look At Me, I'm a Winner!
CD Repo Man
High-5 City
Share
(An Aquabats song from Yo Gabba Gabba)
Super Rad
-encore
Fashion Zombies
Awesome Forces
Pool Party
Ad blocker interference detected!
Wikia is a free-to-use site that makes money from advertising. We have a modified experience for viewers using ad blockers

Wikia is not accessible if you've made further modifications. Remove the custom ad blocker rule(s) and the page will load as expected.