The Hooray for the Holidays Tour hit Los Angeles CA on December 12th, 2008 at the Henry Fonda Theatre in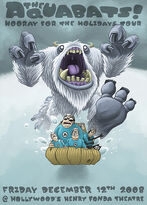 Hollyood. Opening acts included a Yo Gabba Gabba dance party hosted by DJ Lance Rock, folk rockers Dusty Rhodes & The River Band, and funky ska band Suburban Legends.
Fashion Zombies
Martian Girl
Lovers of Loving Love
Look at Me, I'm a Winner
Super Rad
Tiger Rider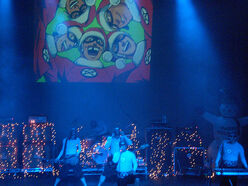 Pizza Day
Story of Nothing
CD Repo Man
Pool Party
-encore
Magic Chicken
Capain Hampton
Awesome Forces
Ad blocker interference detected!
Wikia is a free-to-use site that makes money from advertising. We have a modified experience for viewers using ad blockers

Wikia is not accessible if you've made further modifications. Remove the custom ad blocker rule(s) and the page will load as expected.