On the weekend of
Comi-Con 2008
, the Aquabats booked the San Diego House of Blues for a special event of
their own; the official premiere screening of the pilot of the
Super Show
in its entirety. The opening acts included a Yo Gabba Gabba dance party hosted by DJ Lance Rock and an Aquabat uniform clad MC Lars. For a simple and humble introduction, the unmasked band walked on stage and poked fun at the span of time the Aquabats TV show project has taken. The viewing hit a minor snag when the projector had to be rebooted, but fans remained in high spirits. The Aquabats treated the crowd to a full concert afterwards.
Fashion Zombies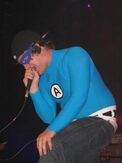 Stuck In A Movie
Lovers of Loving Love
Look At Me, I'm a Winner
Pizza Day
Red Sweater
Captain Hampton
Awesome Forces
Hello Goodnight
CD Repoman
Super Rad
-encore
Pool Party
Ad blocker interference detected!
Wikia is a free-to-use site that makes money from advertising. We have a modified experience for viewers using ad blockers

Wikia is not accessible if you've made further modifications. Remove the custom ad blocker rule(s) and the page will load as expected.