On February 25th, 2011, The Aquabats played their second show promoting High-Five Soup! in Sothern
California at the House of Blues, San Diego. Opening acts were GOGO13 and Buck O Nine. Chainsaw played this show.
The Legend is True!
Martian Girl!
Nerd Alert!
Pizza Day!
Radio Down!
Poppin' a Wheelie!
Hey Homies!
Giant Robot-Birdhead!
Lovers of Loving Love!
In My Dreams!
Super Rad!
Look at Me, I'm a Winner!
Hello, Good Night!
-encore
Fashion Zombies!
The Shark Fighter!
Pool Party!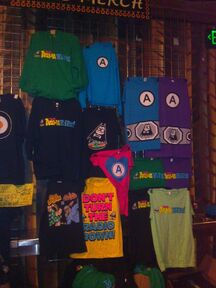 Ad blocker interference detected!
Wikia is a free-to-use site that makes money from advertising. We have a modified experience for viewers using ad blockers

Wikia is not accessible if you've made further modifications. Remove the custom ad blocker rule(s) and the page will load as expected.