Intro [Please Help This Section]
Edit
Out of the Pacific Northwest, somewhere in the octagon,
In a cave, in a patch of moss, underneath a rock, in a [reef of] bacteria leeches,
Nature mutated the most dazzling, human-sized predators of evil-doers the world has ever known.
Armed only with doggy bones, honey bears and the mossy log flume they traveled in,
These marooned, masked marvels land on the sandy beaches in search of vitamin C and a few thousand marbles.
If you have their number, call them sometime.
They are:
THE AQUABATS!
When I was a boy
I used to live in corduroy,
OP shirts, and slip-on Vans.
My life was so simple,
I had not one pimple,
My everyday was made up of these plans:
To ride my bike to Thrifty's,
past the balls and ice cream and
find the Star Wars figurines.
Thinking of my action men,
Kung-Fu grip and all,
What happened to them all?
(Chorus)
Running through my old life
Looking for my lost toys
Where has all my fun gone?
Now that I'm much older
We'll get much colder
We'll get together and sing this song.
An anthem for our lost toys,
Now that we're all big boys,
We'll get together and sing this song.
It's not too long - so come along.
Everybody sing along:
When I was a little man
Playdough came in a little can
I was Star Wars' biggest fan
Now I'm stuck without a plan
GI Joe was an action man
Shaggy drove the mystery van
Devo was my favorite band
Take me back to my happy land
Now my brothers and sisters,
I don't mean to make a scene.
But I lost my action figures
and it makes me want to scream!
Greedo, Chewbacca, Luke, R2 and Han,
3PO, Yoda, Boba Fett and Obi Wan.
Green Machine, Suckerman,
Silly Putty, Lincoln Logs,
Sitting in my Underoos,
Reading Christmas catalogs.
What happened to my Kung-Fu grip and all?
What happened to it all?
(Chorus)
Take me back to my happy land
Take me back to my happy land
Live Videos
Edit
1998, Lawrence, KS: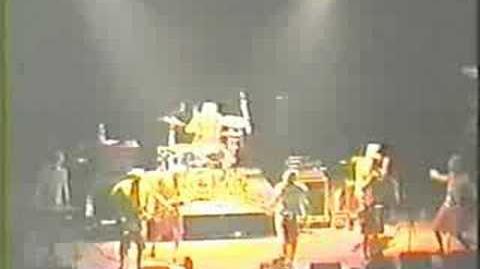 1999/2000 Cadet Summit (partial clip):

Ad blocker interference detected!
Wikia is a free-to-use site that makes money from advertising. We have a modified experience for viewers using ad blockers

Wikia is not accessible if you've made further modifications. Remove the custom ad blocker rule(s) and the page will load as expected.