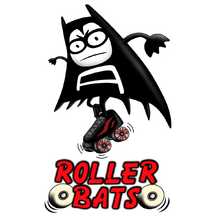 A roller skate club foundered by MC Bat's sidekick LavaFish. There was going to be a headquarters at Fountain Valley Skating Center, So join today!
We go in our roller skates tought parks and skating rinks of Orange County and fight Crooks and Monsters with an iron fist. We also got plans of building our own headquarters in Orange County that will be working on soon. We also save Aquabanian survivors if we have time to sneak to the island. Maybe someday we'll roller brade Monster M back to where he belongs. We also help the homeless and try to give them goodie backpacks to them. So rememder when you join the Rollerbats now, you'll get a cadet package and a license card for 15 dollars with free shipping. Please join us today! and make sure you'll get permission to us and MC.
Commander: ********
Co-Commander: *******
Corporal: ******
Private: ***
Sidekick: **
Kamikaze Watermelon : *****
Ziggy Buggy Doog : ****
Batsketeers
Edit
0001LavaFish********
  
  
  
  
We sneak Cupakes and Cookies into hidden places.
My first memory at the donut shop near our house at the filming of the fourth episode of Laundry Day!
We compete in worldwide roller skating race to go into different locations searching for clues that will lead to the million-dollar prize.
We might watch horror movies during Halloween.
Also includes NES and Pizza.
MC really loves me.
External links
Edit
Official Fansite (under construction)