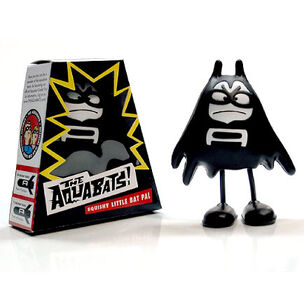 The famous Aquabat's mascot finally gets a third dimension with this fun toy. He stands four inches tall. He has a body made out of durable foam, bendable legs, and plastic feet. He is tough enough to take a good squeeze like a stress ball, but how could you take out your anger on this little guy? The box that he comes in is just as cool having every side covered in Aquabat comical nonsense. The bat used to come with older cadet packages but now is for sale separately. He is a rarer item, currently unavailable online and sometimes found at shows. Made in 2003 by Gloopy Toys.
Ad blocker interference detected!
Wikia is a free-to-use site that makes money from advertising. We have a modified experience for viewers using ad blockers

Wikia is not accessible if you've made further modifications. Remove the custom ad blocker rule(s) and the page will load as expected.