The Aquabats (often written as The Aquabats!) are an American rock band formed in 1994 in Huntington Beach, California and currently recording for Fearless records. They have released six full-length studio albums (the newest, Hi-Five Soup!, in 2011)and 2 EPs and have toured internationally. They are best known for their legend!!, in which they claim to be superheroes on a quest to save the world from evil through music. As a part of this legend the band members have got superhero names and dress in matching costumes. Their electric live show often includes onstage "battles" with evil foes, and the band has built up an elaborate and ever awesome backstory of their origins and adventures, along with a roster of allies and enemies.The Aquabats roster includes JImmy the Robot,Ricky Fitness,Eagle Bones Falconhawk,MC Bat Commander and Crash Mclarson this Roster has been the same since 2006
The group's lineup has fluctuated significantly throughout their career, with founding members The MC Bat Commander and Crash McLarson as regular fixtures. Jimmy the Robot has also remained a longtime member, having joined the band in 1996. The Aquabats' early work was heavily rooted in the third wave of ska music with touches of surf and punk rock. Over the years their music shifted towards more synthesizer-based rock with a new wave influence. Their current style blends elements of rock and roll, pop-punk, ska, and synthpop. They have coined the term for their own brand of music as "aquabeat".Fun Fact Travis Barker from Blink 182 and 44+fame was the drummer of the band in 1996 to 1997.The Aquabats have also have like great super heroes The Aquabats James Briggs aka Jimmy the Robot, Richard Falomar aka Ricky Fitness,Ian Fowles aka Eagle Bones,Christian Jacobs aka MCBC and Chad Larson aka Crash Mclarson.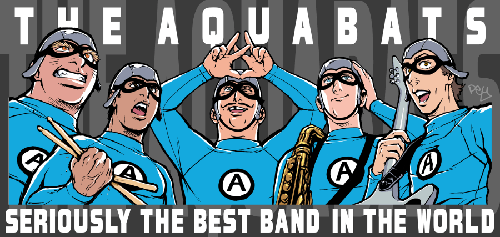 Ad blocker interference detected!
Wikia is a free-to-use site that makes money from advertising. We have a modified experience for viewers using ad blockers

Wikia is not accessible if you've made further modifications. Remove the custom ad blocker rule(s) and the page will load as expected.