The Aquabats Limited Edition 7 Inches

Released

1998-1999

Recorded

?

Genre

Label

Producer

Last Release

Next Release

The Aquabats originally planned to release 9 Limited Edition 7 Inches, but, Goldenvoice Records had to discontinue pressing these due to financial losses in their promotion company ( I.E. the highly acclaimed Coachella Festival). Each disk has the face of the named Aquabat on side A, and a comic-style cartoon depicting the Aquabat and some type of villain on side B.
Contains previously unreleased track "Mr. Bonkers", un operachi romantico in three acts based on the life and times of The Aquabats beloved pet scorpion.
Chainsaw vs. Powdered Milk Man 7" Edit
Catboy vs. The Cat With 2 Heads 7" Edit

The Aquabats believe everyone should own at least three of these.
Dr. Rock vs. Clowny Clown Clown 7" Edit

Unreleased
Edit
Crash McLarson vs. The Cyclops
Jaime The Robot
Prince Adam
The Professor
The Commander w/ The Cadets 7"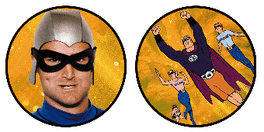 Ad blocker interference detected!
Wikia is a free-to-use site that makes money from advertising. We have a modified experience for viewers using ad blockers

Wikia is not accessible if you've made further modifications. Remove the custom ad blocker rule(s) and the page will load as expected.