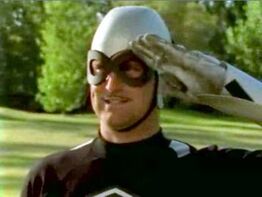 In 1999 The Aquabats self-produced this short video demo in attempts to land a full-length pilot. This was not the Aquabats first attempt at getting a Television series, as the band had created a pilot in 1997 through Buena Vista Television.
"The Aquabats In Color" was shot in two days at the Hidden Valley Ranch in Irvine, California. The Aquabats used their very meager music video budget for The Floating Eye of Death album to fund it with the intention of later using the footage for a video.
Without means to produce an entire 30-minute episode, they created a "Last Week Recap / Opening Credits" and "Next Week Preview / End Credits" with a title card intermission in the middle with the words "Place Show Here". However, it was made to seem as if an entire season of episodes was compiled for these sequences. An instrumental version of the band's song Sequence Erase! was used as the theme song.
"The Aquabats In Color!" starred The Aquabats, allies such as The Professor, Planet V, and plenty of enemies for the heroes to fight, such as The Sandfleas, Powdered Milk Man, The Mant, The Mauler, The Silver Skull and Pumpkin Face. The style of the video was heavy on the action, yet light on the humor and was heavily influenced by Japanese children's shows of the 60's and 70's such as Kamen Rider, Kikaida and Jonny Sokko. Unfortunately the project never took off, although you can still find it here and on the official Aquabats YouTube channel.
Pilot Demo
Edit
Ad blocker interference detected!
Wikia is a free-to-use site that makes money from advertising. We have a modified experience for viewers using ad blockers

Wikia is not accessible if you've made further modifications. Remove the custom ad blocker rule(s) and the page will load as expected.