www.TheAquabats.com is the long-standing URL for The Aquabats! main website. The site began after the release of the Aquabats' first album, The Return of the Aquabats, created by Tyler Jacobs. The site began with a center image of the Lil' Bat  icon blowing a flaming torch with some side menus detailing facts and information about the Aquabats and their latest tours, merchandise and other related items. Later the site expanded with a news section and other sub sections such as the WAC Handbook, and the Aquacadet Sign-Up. Tyler went on to use elements such as flash menus, and expanded the site, usually with the promotion of each new album. In 2008, the site was modified from its Charge! theme to a new look promoting the band's TV pilot, then called "The Aquabats Supershow!", by the main web designer Sheriff Benson. The band has now officially modified their (2008) full website into a single webpage with the theme of The Aquabats! Super Show!, designed by Christian Jacobs, quoting on their Facebook page "We're keeping it simple this time". Since then, The Aquabats have now made new 2013 Super Show! accounts on Instagram and Tumblr.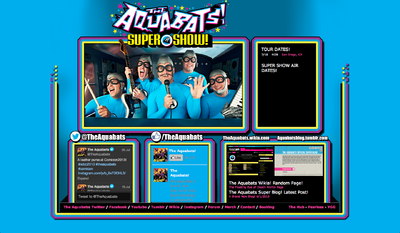 Ad blocker interference detected!
Wikia is a free-to-use site that makes money from advertising. We have a modified experience for viewers using ad blockers

Wikia is not accessible if you've made further modifications. Remove the custom ad blocker rule(s) and the page will load as expected.